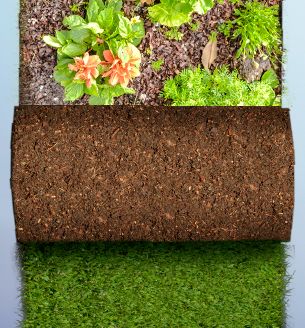 During the 2022 session, the legislature approved $5 million for a statewide grass removal rebate program. A full program launch through UtahWaterSavers.com is coming in spring 2023. To sign up for program updates and announcements, join our email list.
The application period for the pilot program has now ended. If you were unable to apply for the pilot program, we encourage you to participate in the full program through Utah Water Savers in the spring.
You may receive up to $1 per square foot for replacing lawn with drought-resistant landscaping, maximum rebate of $50,000. Applicants will have one year to complete their landscaping project after approval.
Disclaimer: This is a pilot program offered by the Utah Division of Water Resources. Rebate amounts are subject to change at any time and are based on availability at the time of application approval.
Eligible Cities
Rebate funds are available in cities that have adopted qualifying landscaping ordinances. Cities will be added as landscape ordinances are updated to meet state requirements. Washington County residents, please see below.
Washington County
Washington County Water Conservancy District has launched its own rebate program matching funds with the division. Residents are able to receive up to $2 per square foot of lawn replaced. Please visit their website to apply. Projects begun before the pre-conversion site visit are not eligible for rebates.
Landscaping Ordinances
Landscaping ordinance requirements for counties and municipalities within a county are comprised of the following lawn limitations on new residential developments:
Statewide requirements:
No lawn on parking strips or areas less than eight feet in width in new residential development.
Regional requirements:
Washington County – no more than 15% of the lot size in new residential development is lawn.
Salt Lake, Utah, Weber and Davis counties – no more than 35% of the front and side yard landscaped area in new residential development is lawn.
All other counties in Utah – no more than 50% of the front and side yard landscaped area in new residential development is lawn.
The lawn limitations do not apply to small residential lots with less than 250 square feet in landscaped area.
General Requirements
Project area must be currently landscaped with a living, well-maintained lawn. If lawn has been killed or removed prior to a pre-conversion site visit, you are not eligible for this program.
Project area must be 200 square feet or larger.
Applicant must be in good standing with a participating water provider. Unpaid water bills will disqualify applicants from the landscape rebate program.
Applicant must be participating voluntarily. Projects required by governmental codes or policy are not eligible for this program.
Applicant acknowledges and verifies the lawn conversion project will not violate any applicable law, regulation, ordinance, zoning requirement, contractual obligation or other legal limitation.
Applicant must be the property owner and have the legal authority to authorize the removal and replacement on the project area.
Applicant may not have received a rebate for this program in the past.
Applicant agrees not to return a project area to lawn after replacing it with drought-resistant landscaping and receiving an incentive to do so.
Project should remove all lawn from the project area and replace it with drought-resistant landscaping.
Rebate checks will be made payable to the property owner.
Property Requirements
Must be a privately owned residence or place of employment.
May not be agricultural land, golf courses, parks, athletic fields or sod farms.
Must be located within a municipality or a county that has adopted water use efficiency standards.
Planting Requirements
Perennial plants must cover at least 50% of the converted project area at maturity. Trees are encouraged, but will not be considered in density calculations.
Completed projects must be covered with 3-4 inches of permeable gravel, bark, rock or compost mulch, or similar material in areas not covered by artificial turf, concrete, brick or stone.
If landscape fabric is used (not recommended), it must be permeable to water and air.
Concrete areas do not qualify for a square foot rebate, but pavers, bricks, stone and other permeable materials are permitted provided the project area satisfies the 50% plant and shrub cover requirement.
Artificial turf must be permeable to water and air. It does not count as contributing toward the 50% plant and shrub cover requirement.
Irrigation Requirements
Completed project area must be irrigated with a low-volume drip system that:

replaces the existing irrigation system servicing the project area
minimizes evapotranspiration losses
maintains the project area's drought-resistant plants, shrubs and trees in a healthy state
will be verified by entity inspecting the project area.

Bubblers, micro-spray emitters and foggers are not allowed.
Program Process
Step 1: Measure the area of grass you'd like to remove and replace with drought-resistant landscaping. This could be a park strip, side yard, full yard or other configuration.
Step 2: Create your landscape plan using the measurements you've taken. Note what materials will be used where and make sure your plants will cover 50% of the project area at maturity. If you're looking for inspiration, Localscapes.com has examples of landscape plans and online classes.
Step 3: Apply for the program. The application requires all of the items listed below. Application completeness is required for approval.
Step 4: Once submitted, your application will be reviewed. Your property will also be verified to ensure compliance with eligibility requirements. You will be contacted for additional verification (this could be a quick video call to see the project area or a site visit). A participation agreement will be emailed to you.
Step 5: After your property and application are approved, you can start the work. Projects must be completed within one year of approval.
Step 6: Once finished, please contact us at WaterRebates@utah.gov to submit photos of your completed project, submit copies of any receipts for materials and or work done and request a site inspection.
Step 7: After the final inspection and completion of a W-9 for tax purposes, a rebate check will be mailed to you.
Application will ask for:
Applicant's name, mailing address, email address and phone number.
Description of the property where the proposed lawn removal and replacement will occur.
Description of the lawn area(s) proposed for removal and replacement, including dimensions and location on the property, ie. project area.
Copy of the property's water bill that is in good standing.
Drought-resistant landscaping plan for the project area that shows:

the location on the property and square footage of lawn planned for removal and conversion to drought-resistant landscaping
photos of the project area
drawings with dimensional measurements and aerial images allowed.

Projected costs for the project.
Helpful Resources
Explore landscape plans or take a class at Localscapes.com.
Find Plants:
Application
The application for the pilot program has now closed. The full Landscape Rebate program will launch through Utah Water Savers in Spring 2023.