The Utah Division of Water Resources Weekly Lawn Watering Guides offer customized watering recommendations for your area and lawn type! These guides are created using weather data collected throughout the state, so the recommendations will vary weekly depending on what Mother Nature has in store. More and more Utahns are choosing to landscape with low water use lawn varieties (thank you!), so we've created an additional Low Water Use Guide guide. Be sure to select the appropriate guide below based on your lawn type. Conventional lawns should use the standard watering guide. Those that have intentionally planted low water use varieties should use the Low Water Use Lawn Watering Guide.
Weekly Lawn Watering Guide
Lawn can tolerate a lot of water before it starts to show signs of stress. Because of this, it's typically overwatered. One way to conserve water and maintain plant health is to avoid overwatering.
This guide assumes you are applying 1/2″ of water with each irrigation event. The chart on this page gives you an idea of how long you may need to run your system to apply 1/2″. Every system is a little different. For an accurate run time recommendation, participate in the free Water Check program.
Low Water Use Lawn Watering Guide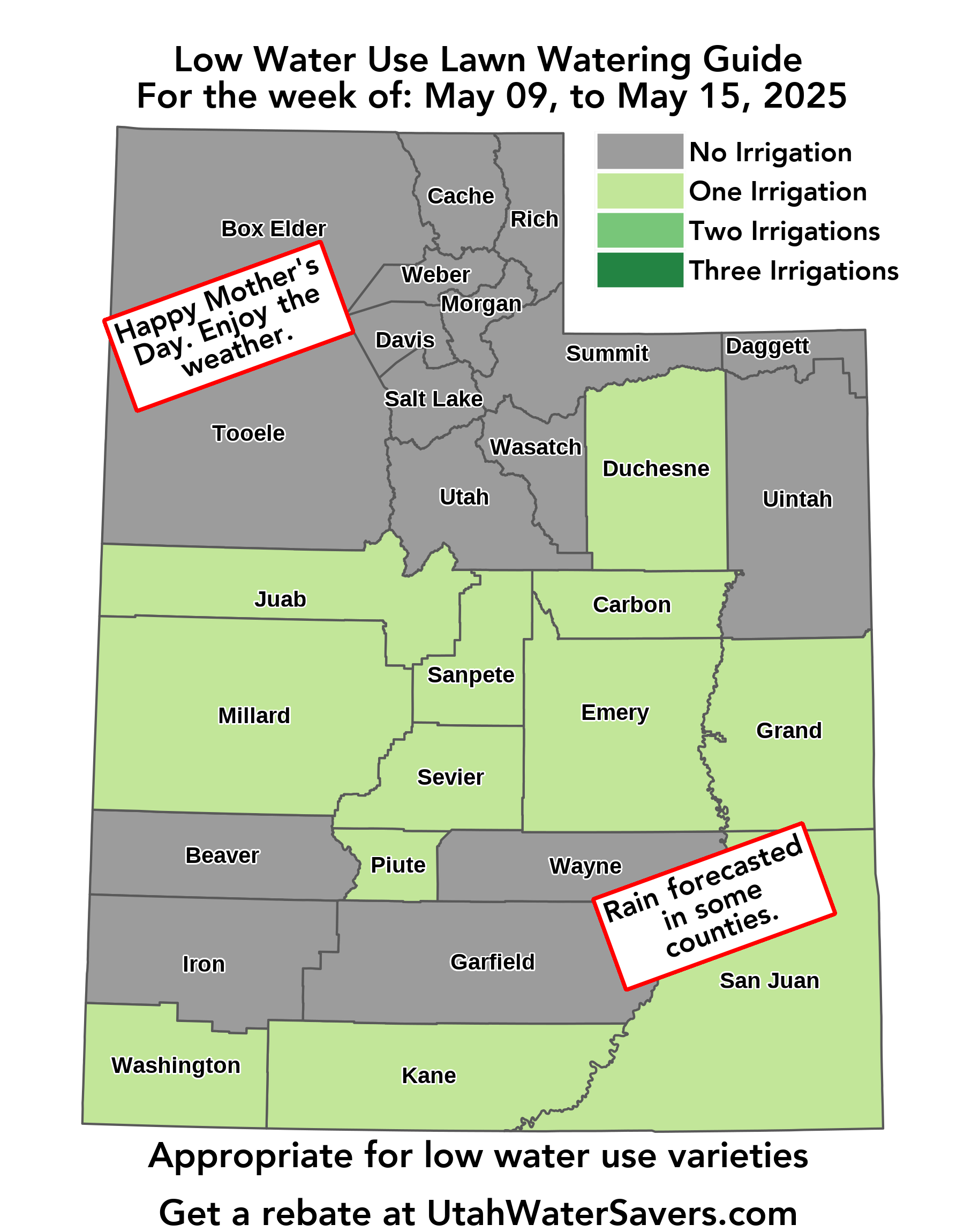 The low-water-use lawn guide is a great resource for those who have planted low-water use lawn varieties. This guide also works for those interested in simply maintaining lawn health vs. appearance during the summer heat. For more information on lawn dormancy, check out the "Is your Lawn Dead or Dormant" publication by USU Extension.
When purchasing grass seed, look for varieties that have the Turfgrass Water Conservation Alliance (TWCA) stamp of approval. TWCA tests grass varieties and lists those that demonstrate significant water-saving potential on their website.
If you live in the Salt Lake City or Provo areas, both these cities offer TWCA-approved seed at a reduced cost through their "Turf Trade" programs.
Cycle Recommendations
This chart shows how different sprinkler heads apply water differently. Notice that faster precipitation = a shorter runtime.
*Information courtesy of the Center for Water Efficient Landscaping, Utah State University.
Cycling Recommendation: In areas with clay soils, split up sprinkler run times in three cycles with short pauses to allow the ground to absorb the water and prevent runoff. The method is called the "cycle and soak" method.
Did you know that weather-based irrigation controllers use weather stations to determine how frequently your irrigation system should turn on? When programmed correctly, these controllers have the potential to save a lot of water. Find out if you qualify for irrigation controller rebates or other rebates and incentives at UtahWaterSavers.com.